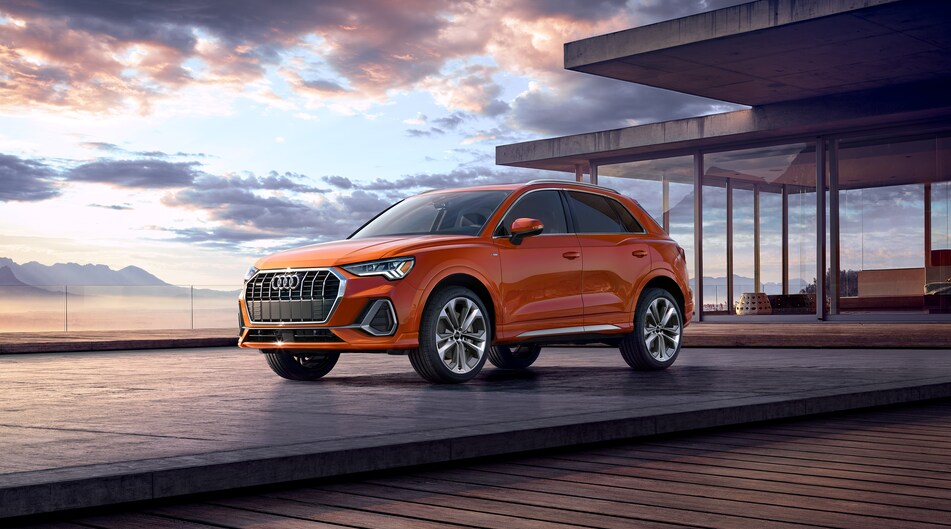 New Audi Q3 Specials
in Miami
Explore New Audi Q3 Lease Deals in Miami, FL
Learn More About Auto Financing & Leasing at The Collection Audi
Buying a new Audi is a significant moment in your life that you'll always look back on. If you're in the market for a new luxury SUV - like the new Audi Q3 - we're here to help you determine your auto financing needs. Leasing your new Audi Q3 from The Collection Audi will help you get the most for your money and ensure a smooth transition as you seek out new adventures behind the wheel near Miami, FL.
Why Lease a New Audi Q3?
Shopping for a new luxury vehicle is a testament to your extravagant lifestyle, one that's governed by helping you capture your needs for speed, power, and performance.You have a few different options for acquiring the luxury car of your dreams during the car-buying process: buying or leasing. Unlike buying, leasing is ideal because it helps you save money each month without committing to one particular vehicle.
Leasing allows you to take advantage of the latest tech and performance features that come standard on new luxury SUVs like the Audi Q3. By signing a short-term lease agreement, you'll be able to enjoy the perks of driving a newer car every few years with reliable warranty coverage and service support. Additional benefits of leasing a new Audi Q3 include:
Secure a lower monthly down payment
You could save money on sales tax
Take advantage of our ongoing lease deals and special offers
Lease a New 2022 Audi Q3 in Coral Gables, FL
Are you interested in saving money by leasing a luxury SUV like the new 2022 Audi Q3? If you're in the market for a high-end crossover SUV that's flexed to fit the needs of your entire family, you owe it to yourself to explore our new inventory for the new 2022 Audi Q3. In addition to being the ultimate family-friendly SUV for sale near Pinecrest, the new Audi Q3 is an exceptional choice for drivers seeking power, safety, and the latest tech features.
Auto-Financing Made Simple in South Miami
As you hit the roads chasing South Miami's illustrious and unforgiving sunshine, it's easy to get going knowing that the experts at The Collection Audi are in your corner. When it comes to auto financing, our team goes the extra mile to ensure your needs are met and that your lease deal is crafted to meet your budget requirements. It's our goal to help you navigate the auto financing process to the best of our ability to ensure you never fall short of meeting your monthly payments.
Proudly serving drivers from Doral and beyond, we invite you to join us online or visit us at The Collection Audi to review our ongoing lease deals and schedule a test drive of the new 2022 Audi Q3. We're happy to help you apply for auto financing online, take out a loan, and compare your favorite Audi Q3 models based on style, comfort, and trim.
Contact Us to Learn More
For more information, please call or contact us online at The Collection Audi to learn more about leasing the new 2022 Audi Q3. We look forward to working with you!