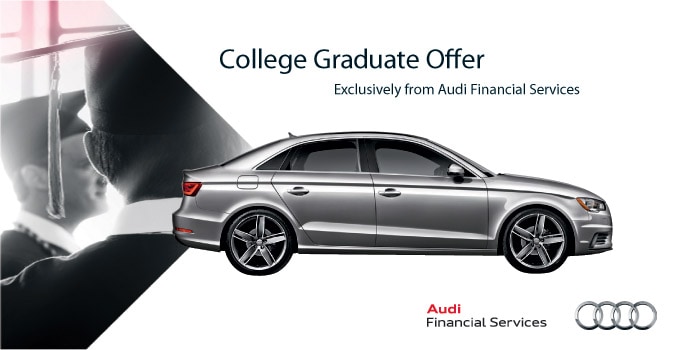 College Graduate Looking to Purchase or Lease?
If you are about to complete your college experience at University of Miami, or you have done so within the last 24 months, there's great news: the College Graduate Offer* exclusively from Audi Financial Services is for you. Getting the opportunity to have the Audi experience is a great way to embark on your new career and give you something to explore your future with. Audi models offer style, performance, and the latest technology for a luxury driving experience that rivals the competition. It's true that making a statement is not difficult with one of these cars or SUVs.
This program is designed to give you the chance to start your journey off right and all it takes are a few easy steps:
You need to be six-months from graduating, or have graduated within the last 24 months from an accredited two- or four-year college or university, like University of Miami.
You must have a full-time job or have a written commitment from your future employer.
You must be a current U.S. citizen or permanent resident of the United States.
If these statements describe you, then you qualify for this exciting opportunity and you simply need to contact us to get started. With this program there are options about how you can choose to finance your new Audi A3, A4, Q5, A6, or Q7, with either a lease or loan available. The premium leather seats, high-level technology, and entertainment features with top of the line sound system, these Audi models are more than four wheels and an engine; they're an entirely different experience than anything you've had before.
Contact our team here at The Collection Audi and learn more about what this program can do for you.
College Graduates Will Want To Take Advantage Of The Audi College Grad Incentive At The Collection Audi
Have you recently graduated from a college or university? If so, we may be able to save you money on the new Audi car or SUV of your dreams with one of our Audi College Graduate Offers! Whether you're heading back home from your four years at the University of Miami or Florida International University, you've been studying hard at the University of Miami School of Law, or you have finally graduated from the Miami or Coral Gable college that you love, we can't wait to offer you a special on a new Audi vehicle today!
Do You Qualify For The Audi College Graduate Offer?
What do you need to qualify for these outstanding savings?
You must have graduated within the last 24-months from an accredited two- or four-year college or you need to be within six months of graduating.
You must have a full-time job or a written pledge from your future employer.
You must be a current U.S. citizen or a permanent resident of the United States.
Recommended Audi Models For College Grads
We want you to start your new chapter in life with the best foot forward. Whether that means leasing or loaning a brand-new Audi, here are a few that we recommend:
Audi A6 - Large enough to have plenty of room for your friends and future coworkers, yet still a sleek and fast-paced sedan, the Audi A6 combines efficiency with style.
Audi Q5 - Ready for any adventure you need to take, the Audi Q5 is a compact SUV that will make sure every new coworker is jealous of your ride. You'll also adore the capability behind the Audi Q5 for your weekend getaways.
Audi E-Tron - Looking for the latest in innovation? Check out the new Audi e-tron®. All electric, this efficient and high-performance compact SUV will help you conquer the world.
Visit The Collection Audi To Learn More
If you meet the requirements and you'd like to take a closer look at how you can save money on a new Audi car or SUV, we would love for you to stop by our The Collection Audi dealership. We have many new models available, as well as many College Grad Offers.


Should Your Lease Your Audi Vehicle?
Leasing may offer a lower monthly payment than buying, but you also don't receive a break from the payments
Since leasing is essentially borrowing, you trade your current model in every few years for a brand new one
You can customize your lease to work for you, including the mileage restrictions and other options
Most Audi lease terms provide you with full protection through the warranty
Should Your Finance Your Audi Car Or SUV?
Potentially higher monthly payments can be worth it if you are interested in seeing the payoff after your loan has been paid off
Explore your surroundings or travel for work with the buying option, because you won't have mileage restrictions
At the end of your loan, you won't have to worry about the same obligations that leasing might entail at the end of the lease, like wear and tear
Build equity and explore the possibility of customization with buying
Regardless of which option you choose, you still end up enjoying premium features and style that speaks for itself. To learn more or to schedule a test drive, contact our team here at The Collection Audi and begin your career off right.
*College Graduate Program is subject to credit approval and is available to U.S. citizens or permanent residents who are within six months of graduation or have graduated from a two-year or four-year U.S. or Canadian accredited college no more than 24 months prior to credit application. Applicant must be employed in a full-time permanent position or have a written commitment from a future employer, and provide proof of income. Credit history is not required but existing credit must be in good standing and have no previous derogatory credit.
The form is submitted using an HTTPS form action. All sensitive data is encrypted before transmission and is never sent as clear-text.