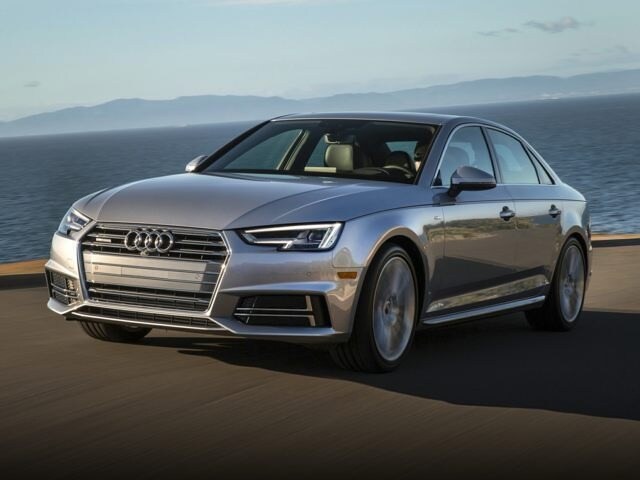 The redesigned 2017 Audi A4 distinguishes itself with understated stylistic sophistication. In a world where every automaker seems to draw their cars with borrowed templates and design flourishes not unlike those of angry kitchen appliances, the 2017 Audi A4's distinctive exterior styling merely modernizes the previous generation's look. Its tastefully assertive front end wears a substantial grille that's quite classic, and much copied by other envious automakers. Then again, the fact it has been plagiarized only proves Audi's fashion acumen.
Remarkable Interior
Yet it's the interior where Audi proves its true design superiority. It starts with the instrument cluster. Upon activating one of the steering-wheel-mounted switches, the driver can modify the size of the gauges, as well as change the information displayed, which includes navigation, phone, vehicle, and radio stats. Better yet, they are easy to operate without taking your eyes off the road.
The design excellence continues when you reach for the knob that controls Audi's MMI interface. It anchors the large center console along with a massively chunky transmission lever. Scattered around the knob are switches to access the navigation, telephone, and radio/media, along with radio station presents. Helping ease button confusion are climate controls that are clustered higher up in the instrument panel, just below the MMI system's flat screen.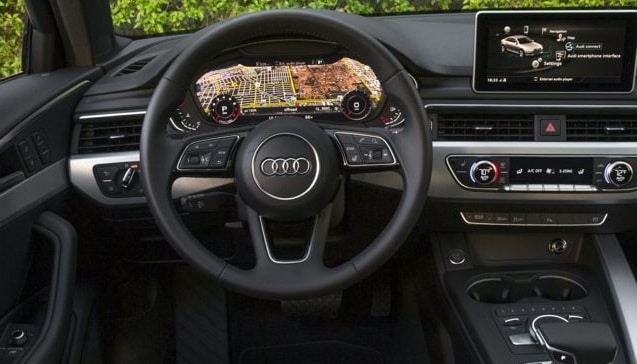 The only odd note is the center armrest that covers most, but not all, of the shallow bin below it. Also, there's a shallow open slot that seems positively useless for anything except stashing individually wrapped toothpicks that you find in diners. Nevertheless, the seats in the Audi are way more comfortable than those in any diner, with an accommodating driving position, not to mention enough fore/aft seat travel for taller drivers. That said, back seat passengers require some accommodation from those in front for exceptionally spacious rear seat comfort.
Unwavering Performance
If it seems that there's a lot to say about the new A4's design, it's only because it's performance is so accomplished, there's not much to say. At first glance, you might not think that its engine, Audi's ubiquitous turbocharged 2.0-liter four-cylinder gas engine, is brawny enough given its rating of 252-horsepower and 273 pound-feet of torque. Yet this diminutive gas grinder proves to be more than vigorous enough to put a grin on your face. There's little evidence of turbo lag; reaction is swift as the seven-speed dual-clutch transmission quickly reacts. And while you can shift manually – this is actually an automated manual transmission – automatic feels faster than manual.
When battling broken blacktop or tackling the twisties, you'll find some compliance and body lean, but it's there to maintain the A4's civility in polite company. But as civilization recedes, you can cast aside the A4's beige khaki persona. Go for the gusto and you'll find this sedan becomes a regular party boy. It's truly an adept sports sedan, albeit one with quick steering, strong brakes, and an unexpected amount of comfort. In fact, it's so proficient, so refined, it's almost uninteresting.
That's not to say it's unimpressive; it is. Even more so considering its evolutionary exterior looks. But in a culture that craves change, with consumers who like to exhibit that they have the latest and greatest, is the 2017 Audi's A4's advancement enough? You'll find out, once you climb behind the wheel.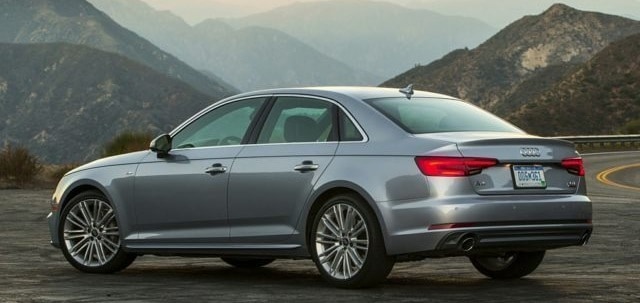 Audi A4 at The COLLECTION Audi of Miami
The 2017 Audi A4 is now available at our showroom, come test drive it today at our centrally located dealership in Coral Gables.
This post was written by Larry Printz: Larry Printz is the Editor-In-Chief, Automotive at Dealer.com based in Burlington, Vermont. In addition to serving as an automotive journalist, Larry is continuously sought by some of the most prestigious automotive concours in the country and serves as a judge at several car shows including Greenwich and Hilton Head. A native of Philadelphia, Larry resides in Burlington, VT and Virginia Beach, VA.
This post was edited by Sierra Calabresi: Sierra Calabresi is a Copywriter at Dealer.com based in Burlington, Vermont. Prior to joining Dealer.com, Sierra worked as a Marketing-Copywriter for a leading inbound-marketing agency that specializes in B2B website design, development, sales and marketing strategies.