Audi A7 Luxury Sedan Miami

The 2021 Audi A7, Experience More Than One Body Styles Under One Roof
As a brand, Audi is well-respected for its luxurious vehicles. The company has perfected styling and aesthetic in these body styles that clients want more of their services each year. For this year's Audi lineup, the company released the new A7. The new A7 is in the form of a Sportback. This could only mean one thing for Miami buyers; they will experience the worlds of sedans, hatchbacks, and fastback coupes under one roof. Its hatchback aspect enables drivers to have a rear door in their A7. Its sedan aspect provides a spacious cabin for the passengers in all rows. Lastly, it also has a sloping roofline like a fastback coupe that boosts its driving dynamics. The new A7 comes with a high-tech cabin, a standard V6 turbocharged engine, and has good road manners.
What's New?
Plenty of upgrades make up the new Sportback of Audi. The standard wheels in all models of the new A7 are 20 inches large. The convenience package is no longer ordinary. To make it stand out from the package in older Audi models, the company upgraded its navigation and added a top-view camera system. Audi goes ahead and adds further oomph to higher trims. The Prestige trim gets an adaptive steel suspension and larger wheels than those of base models. On the other hand, the Premium Plus enhances driving confidence on Doral and South Miami roads by having lane-keeping assistance and adaptive cruise control.
Technology
The new A7's cabin is high-tech. A better and more advanced dual-screen MMI touch-response system replaces previous generation infotainment controls. Atop the center stack is a large 8.8-inch touchscreen in the base trims. It is 10.1 inches larger in upper trims. While the top touchscreen is of different widths, the lower one is of standard width in all models. It measures 8.6 inches and serves as pads for finger inputs and the climate control panel. More standard technologies include Android Auto, Apple CarPlay, Amazon Alexa, a power tilt steering wheel, 8-way power, and heated front seats, tri-zone climate control, a power liftgate, keyless ignition, and a 10-speaker audio system. The technology options in higher models include a 16-speaker B&O system, 12-way power front seats, heated rear seats, and a four-zone climate control system.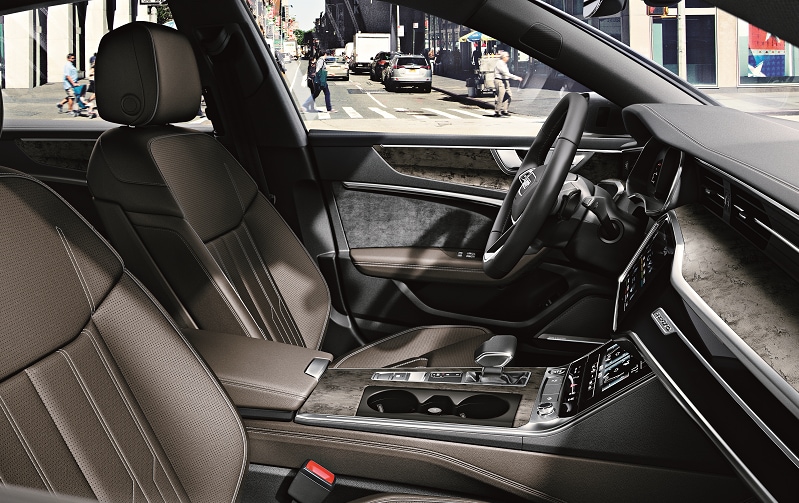 Audi A7 Performance Features
The new A7 only offers V6 options to its Pinecrest fans.The A7 is powered by a V6 turbocharged 3.0-liter engine, while a V6 twin-turbocharged 2.9-liter engine powers the S7. The former offers 335 hp and 369 pound-feet of horsepower and torque, respectively. The latter offers 444 hp and 443 pound-feet of horsepower and torque, respectively. Additionally, both engines act as efficient power sources and outperform the power demonstrated by certain crossovers. This makes the new A7 a rival to more than just Sportbacks available in the market; it also competes with crossovers and certain midsize SUVs whose power is lower than that of the S7 engine. Audi also incorporated Quattro ultra to the new A7 that ensures power supply to all wheels. With the Quattro, the EPA estimates fall at 22 mpg city and 29 mpg highway. A seven-speed automatic dual-clutch transmission is also available with the A7, while an eight-speed is available with the S7.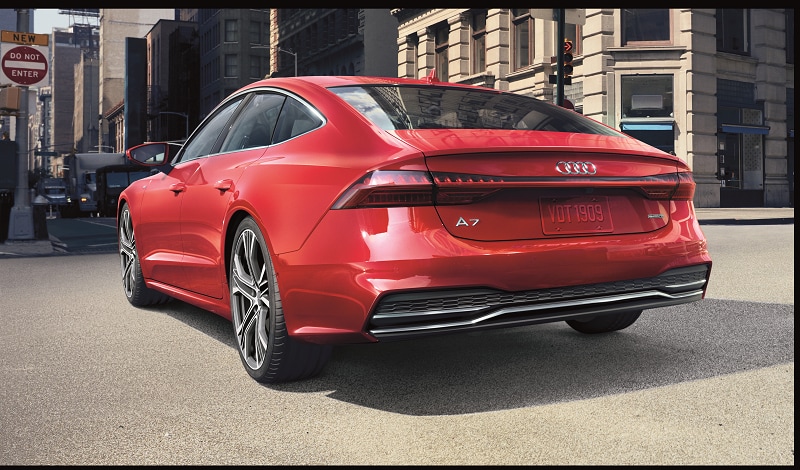 Exterior Design
The design proportions of the A7 are made distinct by the minimal use of chrome on the exterior. The Sportback shape is brought to harmony by three windows on the side and D-pillars. The front grille is wide and low for a sporty design. The rising window line and the steeping and low shoulder line introduce a sense of motion to the new A7.
Visit The Collection Audi Today!
Every client of ours deserves a new A7. It is reliable, efficient, and suits drivers of all types. If you're in Coral Gables or beyond, visit us at The Collection Audi in Miami for a test drive today. It will make you appreciate and trust the capabilities of this vehicle.
Make an Inquiry