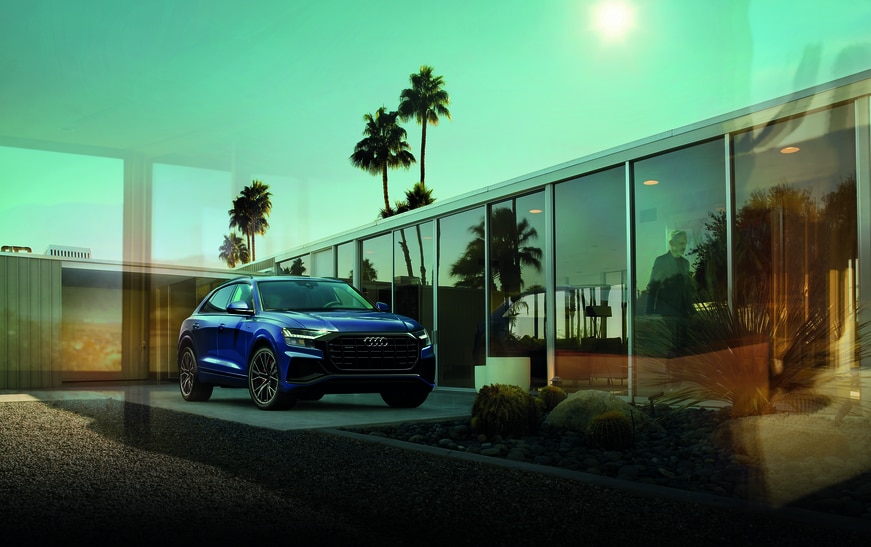 New Audi Q8 Specials
in Miami
Lease the Stunning Audi Q8 in Miami
The next generation of Audi design is on its way, and it's being led by the 2020 Audi Q8. With more stunning styling both inside and out, you'll impress everyone in the Miami area with this luxurious SUV. And when it's time to go for a drive, the Q8 will surely impress you as well. Visit The Collection Audi in Miami to lease the new Q8 today!
Why Lease the Audi Q8 in Miami?
While traditional financing is a popular way to go, leasing a new Audi Q8 offers several advantages that might just make it perfect for you.
First, a lease requires you to give the vehicle back, but that also means you won't be paying the full retail cost of the new Q8. In turn, you'll enjoy lower monthly payments than if you were to finance, so if you were thinking of financing a less expensive SUV, you may be able to lease the high-end Q8 instead.
Furthermore, because your term is only two to three years long, you'll be able to bring the Audi Q8 back to us and swap it for another brand-new model. This ensures you are always driving a vehicle under warranty, but more importantly lets you keep up with emerging automotive technology so you never fall behind the curve.
About the 2020 Audi Q8
Even those who don't love SUVs will find something to appreciate about the 2020 Audi Q8. The interior space is luxurious and seats five comfortably, while the sporty stance and Quattro all-wheel drive provide exhilarating performance. A 3.0-liter twin-scroll turbocharged V6 engine generates 335 horsepower and 369 pound-feet of torque that will press you back into your premium leather seat. Speaking of which, those seats can be both heated and ventilated for comfort no matter where your travels take you.
Visit Our Dealership Today!
Take in the full Audi Q8 experience when you visit our dealership near Coral Gables today! We'll let you take the new Audi Q8 for a test drive and help you set up the lease terms to take home this high-end luxury SUV with confidence.